Alegra's app allows you to manage the finances and accounting of your business anywhere. It will synchronize quickly all the information with our system so can you can access your data in real-time, and you also can use it to work from your desktop and smartphone simultaneously with the same information.
Example: "The Ideal Company creates an invoice using Alegra from a desktop, so the accounting manager can check all the invoices from a smartphone in real-time and mail them to its clients using Alegra's app."
Before starting using our app, you must enter your company's information preferably from a desktop, but you can also do it from your smartphone browser.
Follow these steps to enter your company's information:
2. Click on the "Settings" option on the main menu.
3. Fill in the form with the information requested.
4. Click on "Save" to keep changes.
Like this:

Learn more about how to update your company information reading this article.
After completing your company's information, you can go to the app and customize the initial charts by choosing between several periods of time:
Like this:

With Alegra's app you can also:
Create invoices and estimates with a vendor, and mail them to your clients.
Register the payments of your invoices.
Create products or services in the system.
Create and edit contacts (clients and providers).
Consult your inventory data.
Turn your estimates into invoices.
Add price lists to your products or services.
Assign price lists to your contacts.
Use price lists to create invoices and estimates.
Attach photos or files to your invoices.
Download and print invoices.
Search invoices by number, client name, creation date, expiration date, and state.
Create, review, and edit different currencies. You can activate this feature using the Setting option.
Perform searches by products, services, invoices, clients, among others.
Create, review, and edit vendors' information.
Create providers' invoices and register their payments.
Create, invoice, review, and edit withholdings.
Using our app is very easy, just click the plus (+) button and select the type of document you want to create.

You can also use the search button to find your documents faster: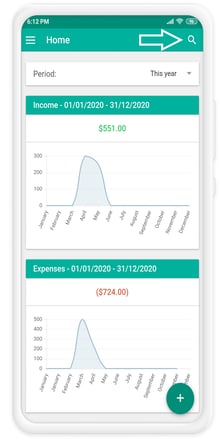 Alegra's app is available for Android (4.1 or above) and iOS (9.0 or above).
Download it now and share your thoughts on Facebook, Instagram, and Twitter.
We also invite you to learn more about all the features that Alegra offers to help you administer, control and support the growth of your company, such as purchase orders, bank management, and consulting reports.
You don't have an Alegra account yet?
If you have doubts about this or other processes in Alegra, our support team is ready to help you.