The contacts are the beneficiaries or third parties to which the transactions in Alegra are associated. For example, purchase invoices, sales invoices, income, and expenses, among others.
For example: The Ideal company wants to register their purchase invoices in Alegra to keep track of what they owe to each supplier. In order to do that, it must create a contact with the supplier's information to associate the purchase invoices with that contact.
In Alegra you can create customer or supplier contacts to use them at the time of creating your invoices, estimates, and proposals. You can create your contacts one by one or upload them from an Excel document.
To create a contact for a customer or supplier, follow these steps:
1. Click on the "Contacts" option on the main menu.
2. Select the type of contact you want to create: "Customer" or "Supplier".
3. Click on the option "New customer" or "New Supplier", accordingly.
4. Complete the form with the new contact information.
5. Click on "Save" to save changes.
Like this:

New Contact form:
This form allows you to create both customers and suppliers, so you do not need to fill out two different forms. In Alegra, we have simplified this process to let you use your contacts in all transactions.
Note: Check the option on the right to verify if your contact is a Customer and/or Supplier. A contact can be marked as a customer and supplier, so you won't have to create it twice.

These are the most important fields you must fill in this form:
Identification: It is the identification number of your contact.
Name: It is the name of your contact.
Price list: Associate a price list to this contact in order to use it when you create sales invoices, credit notes, estimates, and recurring invoices. The system will take the price information automatically of the list with which it is associated.
Seller: Associate a customer with a default vendor.
Payment terms: Select the default due date the invoices made for this contact will have (if you are a customer). You can also create more invoice due terms for your system.
Associate People: Fill the spaces below this form, and select "Send Notifications" in case you want to send notifications by email to this contact.
Once you have finished filling out this form, click on "Save" to finish the process. Now your contact has been created successfully!
Other ways to access the new contact form:
You can create new contacts using the form to make a sale or supplier invoice: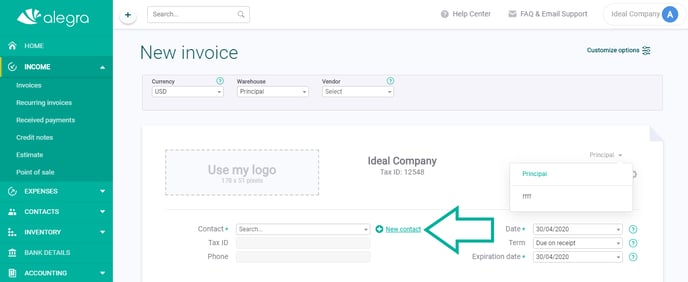 Use the "New button" located on the upper left corner. In this menu, you will also find the option to create invoices, purchase orders, incomes, expenses, sale items, and estimates.
You don't have an Alegra account yet?
If you have doubts about this or other processes in Alegra, our support team is ready to help you.